We've helped hundreds of patients restore the look and function of their smiles
Dental implants have revolutionized the realm of dental restorations, offering a permanent and reliable solution to replace missing teeth. Resembling and functioning like natural teeth, implants have become the gold standard for many, seeking to restore both their smile's aesthetic and function.
Navigating through challenges like lost, fractured, or severely impaired teeth can impact your self-esteem. Beyond that, they pose threats to your overall health. You shouldn't settle. Discuss dental implant solutions with us. At Arrow Smile Dental, our implant procedures are enduring and crafted from top-tier biocompatible substances. Beyond the conventional dental implants, we extend our services to include implants that support dentures and compact implants. We're here to guide you through the choices and determine the best treatment suited for you.
Why Consider Dental Implants?
When it comes to dental restorative options, there's a myriad of choices. Dental implants, however, have gained significant attention due to their unique benefits and long-lasting results. If you're contemplating this treatment, here are reasons that might make dental implants the right solution for you:
Natural Look and Feel: Implants closely resemble and function like natural teeth, offering both aesthetic and functional benefits.
Durability: With proper care, implants can last a lifetime, making them a long-term solution.
Bone Health: They prevent bone loss that often occurs under missing teeth by stimulating the jawbone, promoting its health and integrity.
No Impact on Adjacent Teeth: Unlike bridges, there's no need to alter neighboring healthy teeth to support an implant.
Improved Oral Health: Implants reduce the risk of cavities in surrounding teeth and mitigate potential alignment issues.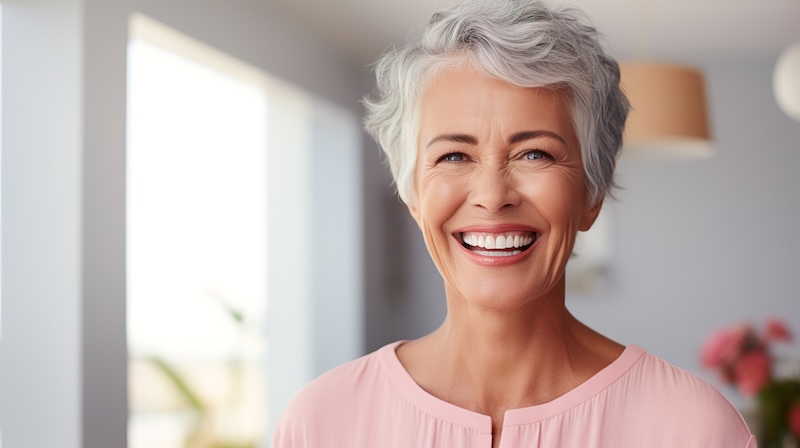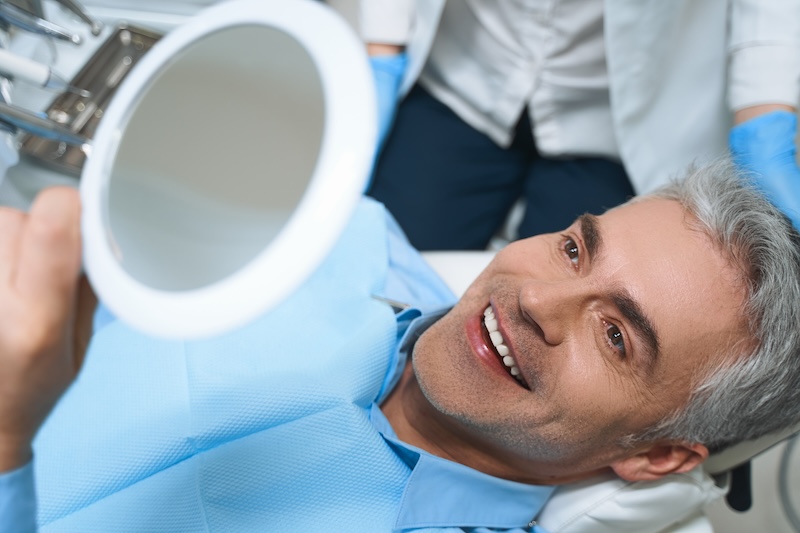 What to expect with Dental Implants
Dr. Rosales is an expert in placing gorgeous, durable implants and can help you replace a single tooth, several teeth, or all of your teeth. Get in touch today to schedule a consultation.
During your dental implants appointment, we'll:
Begin with an evaluation to determine your eligibility for dental implants and create a personalized treatment plan.
If needed, undergo tooth extraction or bone grafting to prepare for implant placement.
Place the dental implants into your jawbone, providing a stable foundation.
Attach abutments to the implants, acting as connectors for the final restorations.
Schedule regular check-ups and maintenance appointments to ensure the long-term success of your implants.
What are Dental Implants?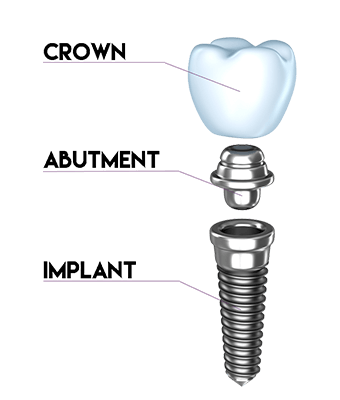 Tooth loss is not just a cosmetic concern. If the gap in your teeth is left alone, then the adjacent teeth will drift into it over time, creating other gaps. The tooth opposite the one that was lost, having no point of contact any longer, will grow down into the gap. This is often accompanied by gum recession around that tooth. Tooth misalignment only raises one's risk for tooth decay as well as gum disease.
It's essential, then, that gaps be filled, and this is where removable dentures and dental bridges come into play. Unfortunately, while bridges and removable dentures can replace missing teeth, they cannot duplicate the way those teeth interacted with the jawbone. The alveolar bone, the part of the jawbone that holds the teeth, needs stimulation from the teeth; otherwise, it will be reabsorbed into the body, causing speech problems and distorting one's facial features.
Only dental implants can prevent both tooth misalignment and alveolar bone resorption. Implants refer to the posts or frames, usually made from titanium, that are surgically embedded in or near the alveolar bone to provide a sturdy root for artificial teeth.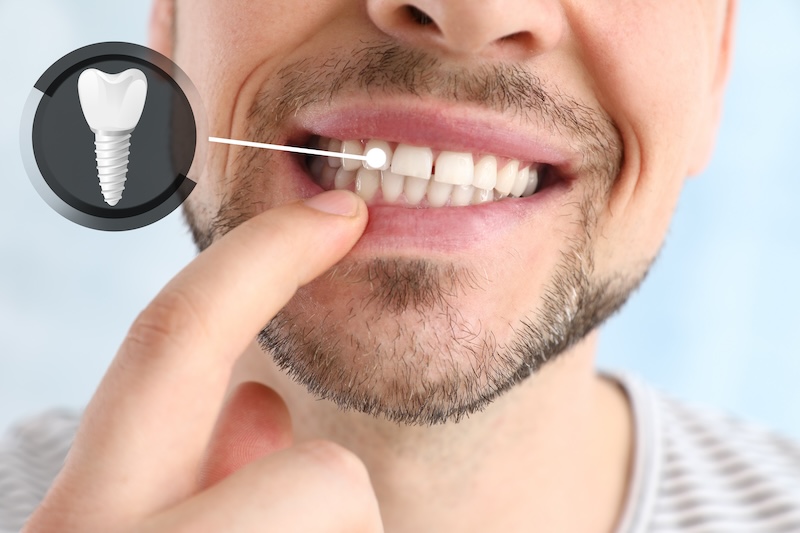 The incredible benefits of implants
Dental implants offer a versatile and durable solution to tooth loss. They seamlessly blend with existing teeth, promoting not only aesthetic beauty but also the health and function of the mouth. For those seeking a long-term solution to dental challenges, implants provide a promising avenue worth considering.
Strengthens your jaw bone
Restores your ability to chew and speak
Promotes healthy gums
Gives you the confidence to smile naturally again
Natural-looking for a beautiful smile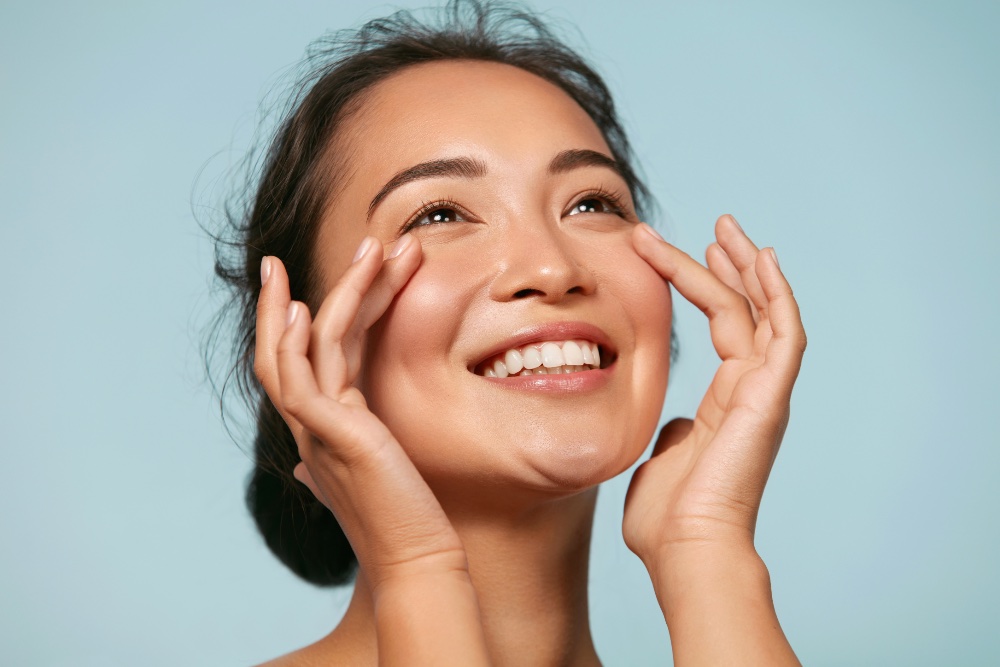 We love to make you smile!
The culmination of a dental implant process is its restoration. At Arrow Smile Dental, we provide comprehensive, custom-tailored treatments. Perfect your smile with a meticulously designed crown, dental bridge, or denture. Together, we'll explore the alternatives and select an approach that bolsters your confidence and enhances your appearance.
The Arrow Smile Dental approach to care
State-of-the-art facility
Affordable treatments & financing options