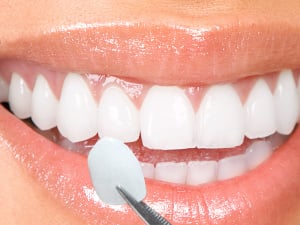 Good dental veneers require the combination of technical expertise and an artistic touch.  The Arrow Smile Dental team has both!  We've created veneers for patients of all types that are beautiful, durable, and functional.  As one of the most respected dental veneer providers in Covina, we invite you to test us out.  Our office is equipped with the latest and most effective technologies to furnish our patients with astounding results.
Arrow Smile Dental customizes veneers for each patient.  Below are some of the basic details about veneers:
Veneers are thin yet resilient and are bonded to teeth with a strong adhesive.
Porcelain veneers are extremely durable often enduring for 10 years of more.
Most veneers will look exactly like natural teeth so they are especially helpful in improving the aesthetics of a smile.
There are 3 major veneer material types—ceramic, composite, and porcelain.
Among the 3 major veneer types are various sub-categories of each material.
Some veneer types are useful for certain dental applications; therefore, Arrow Smile Dental utilizes multiple veneer types instead of a "one type is best" method.
Q and A
Indeed they can!  Because veneers are shaped and resemble natural teeth, they will improve the look and feel of your smile.  Additionally, veneers do not stain as easily as natural teeth and they help to protect teeth from further damage.  At Arrow Dental, we take detail images of your smile and artfully design a perfect smile for each patient.  During this process we make sure that veneers will align and are careful to blend veneers into your smile.  Our patients that choose veneers are blown away with the look of their new smile!
Ceramic veneers are simply another material used for veneers.  The main advantage of ceramic is that it is a thicker veneer, which is useful for teeth that are chipped, cracked, fractured, or severely damaged.  Before applied, the tooth is shaved to create the correct spacing and setting for the veneer.
Before you decide to move ahead with veneers, we will cover all of the pros and cons with you so that you can confidently make a decision.  We'll also explain specific dental hygiene techniques that will help you to maintain your veneers for as long as possible.  When veneers are placed correctly and cared for properly, they can bring lasting benefits to patients.