In this issue, we begin our 2 part series in Dental Orthodontics, starting with Invisalign
Invisalign for Teens and Adults
We begin our 2-part series with Invisalign, the clear alternative to Braces.
The Invisalign system is the virtually invisible way to straighten your teeth and achieve the smile you've always dreamed of. Using advanced 3-D computer-imaging technology, Invisalign depicts your complete treatment plan, from the initial position of your teeth to the final desired position. Then a series of clear aligners are custom-made for your teeth – and your teeth only – to move them little by little. Each aligner is worn for about two weeks before being replaced by the next in the series, until the final position of your teeth is achieved.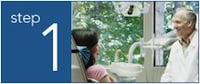 Your initial consultation with Dr. Rosales, is always offered for free. During this visit, you'll discuss the issues you have with your teeth and what kind of results you would like to see. Once Dr. Rosales decides your situation is suitable for Invisalign treatment, a treatment plan will be mapped out with your goals in mind. Then, impressions and pictures of your teeth will be taken for digitization purposes.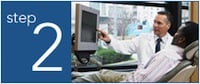 The impressions of your teeth will be digitized in order for Dr. Rosales to work with a computerized 3-D image of your teeth. Then, Dr. Rosales will plan your tooth movements throughout your entire treatment timeline. You'll be able to see a virtual representation of your teeth before, during, and after completion of the Invisalign process so you can see what your smile should look like when you're done with treatment.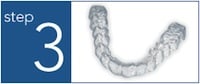 From your precise treatment plan, customized aligners are created with advanced technology for you to wear at each stage of your treatment. While the number of aligners varies for each individual situation, a full set of treatment typically includes 20-30 aligners per arch.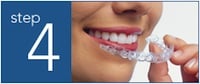 You should wear your aligners at all times, with the exception of eating and drinking, in order to complete your treatment in the timeline determined by you and Dr. Rosales. You'll go in for occasional checkups, to monitor your progress and to receive your next set of aligners. During the entire treatment process, you'll be able to watch your teeth gradually moving into place. Your smile will, little by little, move into something you'd like to show off. The people around you will be sure to notice your new-found confidence.
Invisalign aligners are practically clear. No one may even notice that you're wearing these virtually invisible "braces," making Invisalign a seamless fit with your lifestyle and day-to-day interactions with others. Invisalign is removable. Unlike braces, you have the flexibility to eat and drink what you want during treatment by simply removing the aligners. And you can also remove the aligners to brush and floss as you normally would for fresh breath and good oral hygiene. Unlike braces, there are no metal brackets or wires with the Invisalign system that could cause irritation to your mouth. Plus since your office visits during treatment don't involve metal or wire adjustments, you'll likely spend less time at the dental office.
Part 2 of our Orthodontic Series will be in our next newsletter, issue #5. The contrast to Invisalign, Traditional Braces and the modernization of them.