Many people fear their semi-yearly trips to the dentist. The prospect of a cavity and the dreaded reality of a filling weigh heavily on many minds. Add in the possible need for a crown or veneer to repair damaged teeth, the dental visit quickly goes to the bottom of the to do list.
Thankfully, innovation in dentistry has made tooth restoration easier, more convenient, more accurate and overall less worrisome for patients. Our office has recently installed CEREC® equipment, which provides for on-site creation of natural-looking ceramic fillings – in a single visit. We use a digital camera to take an optical impression of the damaged tooth, design the appropriate restoration using CAD software and mill tooth-colored ceramic on-site in less than an hour. There's no need for a temporary and return visit. From tooth preparation to placement and bonding, a patient can have his or her smile restored in less than an hour.
What is CEREC?
CEREC is an acronym for Chairside Economical Restoration of Esthetic Ceramics. Translated, it means that a dentist can economically restore damaged teeth in a single appointment using a high-quality ceramic material that matches the natural color of other teeth.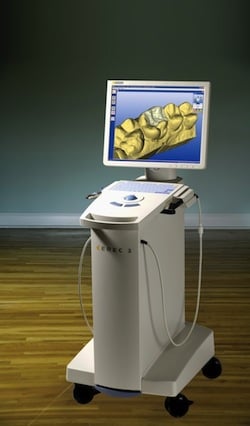 How does the instrument work?
CEREC uses CAD/CAM (Computer Aided Design/Computer Aided Manufacturing) technology, incorporating a camera, computer and milling machine in one instrument. The dentist uses a special camera to take an accurate picture of the damaged tooth. This optical impression is transferred and displayed on a color computer screen, where the dentist uses CAD technology to design the restoration. Then CAM takes over and automatically creates the restoration while the patient waits. Finally, the dentist bonds the new restoration to the surface of the old tooth. The whole process takes about one hour.
What does this innovation mean for a patient?
A tooth-colored restoration means no more silver fillings discoloring smiles. The filling is natural-looking, compatible with tissue in the mouth, anti-abrasive and plaque-resistant. Dentists no longer need to create temporaries or take impressions and send them to a lab. Because of this, the traditional second visit has been eliminated. CEREC has two decades of clinical research and documentation to support the technology. The restorations have been proven precise, safe and effective.
Our Guarantee!
We are so excited to offer this amazing technology to all of our patients that we are placing a no questions asked Four (4) Year Warranty on all of our CEREC Restorations. Our only terms is that you continue to make your periodontal maintenance (teeth cleaning) appointments at our office (at least two per year) so that Dr. Rosales can examine the restoration for any defects, not too mention, your oral health is very important and dental hygiene appointments should not be missed for any reason.
CEREC is a shining example of recent advances in the dental profession and we at Arrow Smile Dental are proud to offer our patients this new approach to tooth restoration. Schedule your next dental appointment with our office to learn more about CEREC.